A handsome Prince, bored with life at the Palace decides to roam the land to look for a wife. Traveling in disguise, with his father, he stops at the Cramem Inn and immediately falls in love with the landlady's daughter. Unfortunately he is press-ganged by a band of stupid pirates and the adventures of the 'Pirate Prince' begin.
Musical Director: Brian Tasker
Crew

Stage Manager
Pauline Uprichard
Stagehands
Gail Dennis, Angela Hunter, Alan Smith
Lighting
Patrick Markham & Nigel Dring
Sound
Ryan Dring & Graham Davidson
Set Construction
Ian Uprichard & Graham Davidson
Set Design & Artistry
David Broughton, Alan Micklethwaite & Carrie Simpson
Painters
Tim Bradford, Nigel Dring, Trevor Minett, Patrick Markham, Ian Uprichard & David Broughton, Alan Micklethwaite, Carrie Simpson & Graham Davidson
Continuity
Jenny Brundle
Special Props
Graham Davidson & Ian Uprichard
Box Office
Vicki Makin
Poster Design & Programme Cover
Diana Elrington
Programme Text
Ted Warner
Wardrobe
Pauline Uprichard, Mary Davidson and members of the cast
Publicity
Mary Davidson, Ruth Andrews & Marjorie Blatherwick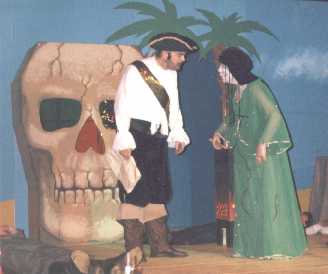 Captain Quinn (Ian Uprichard) and Mona (Charlotte Broughton) on Skull Island (above) and Karen Hunter as the Pirate Prince with Captain Quinn and the Pirates. Musical Director Brian Tasker in the forground.