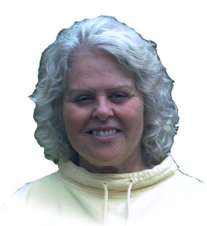 Member Profile:
Ruth Andrews
Multi-talented Ruth supports the Broadbent from all angles. A fine pianist and singer, Ruth's musical skills have led her to the role of Musical Director for many shows. She is just as competent on the stage where Ruth has played many demanding roles, most notably in my opinion, she played a magnificent Mrs Warren in Mrs Warren's Profession. She also likes to get her teeth into an evil role and appeared to revel in her part as Madge the Witch in Babes in the Wood.

Away from the stage Ruth has played a key part on the Admin side of the fence. As a committee member she has been responsible for publicity on many occasions and also for producing the LRP newsletter.

Ruth's artistic commitment is not limited to the Broadbent. She is actively involved with many musical organisations in the area.
portrait photo by David Broughton