Member Profile:
Jeremy Price
email:-jeremy.price@broadbent.org
Jez's association with the Broadbent Theatre lasted several years during which time he appeared in two pantomimes and worked backstage at another. He left Rasen in 1995 to begin a four year spell at Nottingham University where he 'had a fantastic time' and gained a BSc in Engineering and Management. He then worked as a Process Engineer in Royal Tunbridge Wells until February of 2001 when he moved to London to take up a position as IP Project Manager serving online businesses.

Jez keeps threatening to pop back to Rasen to partake of a few Guinnesses with us. Ready when you are mate!!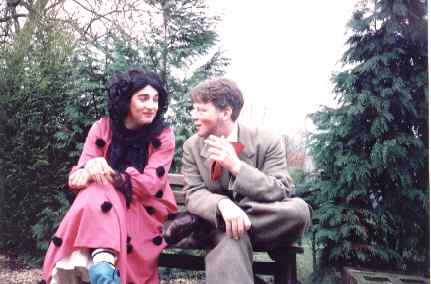 Jez taking time out for a cigarette during Cinderella. Pictured
here with Nigel Dring as one of the Ugly Sisters