A Jim Broadbent Biography
A thoroughly decent English actor loved for his bumbling comic skills, Jim Broadbent is the star of this website and the Honorary President of the Lindsey Rural Players (Broadbent Theatre). He is one of Britain's most versatile character actors, with a long list of credits ranging from screwball comedy to weighty drama. Born in Lincolnshire in May 1949, Jim is the youngest son of furniture maker Roy and Sculptress Dee Broadbent, founder members of the Lindsey Rural Players and stalwarts of the Broadbent Theatre.
He lives in North West London with artist wife Anastasia Lewis. They also have a home in Lincolnshire.
Awards: In an overwhelmingly successful 2002 awards season Jim scooped the Oscar for Best Supporting Actor for his role as John Bayley in IRIS. One month earlier he won the BAFTA for Best Supporting Actor for his role as Harold Zidler in Moulin Rouge and just prior to that he was awarded a Golden Globe for Best Supporting Actor in IRIS more.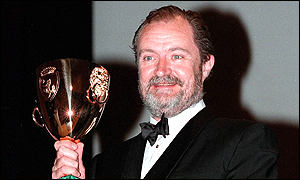 The National Board of Review (2002) also awarded Jim with Best Supporting Actor for his roles in 'Moulin Rouge' and 'Iris'. The Los Angeles Film Critics Association has followed suit and also awarded Jim Best Supporting Actor for his roles in 'Moulin Rouge' and 'Iris' which was presented on Jan 22nd.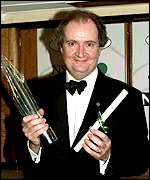 Jim won the Volpi Cup (1999) for Best Actor at the Venice Film Festival for his performance as the librettist WS Gilbert in Mike Leigh's film, 'Topsy Turvy'. He also won the London Evening Standard Film Award for Best Actor for 'Topsy Turvy' and the London Film Critics Circle Award for British Actor of the Year.

Jim also received nominations for his role in 'Topsy Turvy' from BAFTA, C

hicago Film Critics Association Awards and British Independent Film Awards. He was also nominated by the Screen Actors Guild Awards for an Outstanding Performance in 'Little Voice'.

Training Jim attended a Quaker boarding school in Reading. He went on to successfully apply for a place at art school but his heart lay in acting and he transferred to the London Academy of Music and Dramatic Art (LAMDA) from which he graduated in 1972. He began his professional career as Acting Assistant Stage Manager at the Regent's Park Open Air Theatre in London. A significant breakthrough came in 1976 when he appeared in Ken Campbell's 'Illuminatus' a 12 hour sci-fi extravaganza in which he played a dozen characters.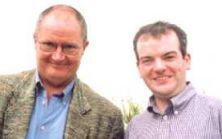 Theatre Jim's career began on the stage. His rich theatrical background includes: "The Recruiting Officer"; "Our Country's Good"; "Kafka's Dick" by Alan Bennett, and "The Government Inspector" at the Royal National Theatre, both for director Richard Eyre (who also directed "Iris"); "Goosepimples" and "Ecstasy" for Mike Leigh; and "Our Friends in the North" with the Royal Shakespeare Company. He was also half of the two-man theatre company, The National Theatre of Brent, in their epic productions of "The Greatest Story Ever Told", "The Complete Guide to Sex", "The Messiah" and "Revolution", playing such diverse roles as God, Mrs. Simpson, Robespierre, John the Baptist, Lord Reith and Marie Antoinette.

Film Broadbent's film career began in the late seventies. He has said that he always expected to see more success in his later years and true to form, he has gone on to star in some top films. Jim played the librettist William S Gilbert in Mike Leigh's 'Topsy Turvy'. He recently played John Bayley opposite Judi Dench in "Iris", Zidler in Baz Lurhmann's spectacular "Moulin Rouge" (with Nicole Kidman and Ewan McGregor) and Bridget's dad in 'Bridget Jones's Diary'. He has starred in 'The Avengers' (with Ralph Fiennes, Uma Thurman and Sean Connery), 'Little Voice' (with Michael Caine and Jane Horrocks), 'The Borrowers' (with John Goodman) and Ian McKellen's 'Richard III'. He played Mr. Worrell in the excellent 'Princess Caraboo' (with Phoebe Cates), Woody Allen's 'Bullets Over Broadway' and Neil Jordan's 'The Crying Game'. Check the filmography page for more details.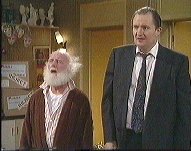 TV Broadbent's distinguished and wide-ranging work for British television includes: "Long Distance Information", "The Last Company Car" and "Walter" with Ian McKellen, all directed by Stephen Frears; "Birth Of A Nation" and "Tales Out of School", directed by Mike Newell; and three dramas by Alan Bennett: "Intensive Care", "Our Winnie" and "The Insurance Man" In addition, Broadbent wrote and starred in the award-winning short film 'A Sense of History' directed by Mike Leigh. He has starred in two series of sitcom, "The Peter Principle" as Peter Duffley, in 1997 and 2000. He also starred in ITV's six-part comedy-dramas "Gone to the Dogs" and "Gone to Seed," and in such classic comedies as "Not The Nine O'clock News," Roy Slater in "Only Fools and Horses" (he famously turned down the role of Del Boy), the first season of "Black Adder", and "The Victoria Wood Show"

---
Contact Jim Broadbent
Communication for Jim Broadbent should be sent to his agent:
Sally Long - Innes Office, Independent Talent Group,
40 Whitfield Street, London WIT 2RH England.
Tel: 0207 636 6565

- These pages are designed, maintained and owned by Patrick J Markham.
- Please seek permission before copying or linking to these pages. (I'm not likely to refuse)
- Most of the photos on the Jim Broadbent section of the site have been sourced from around the internet and the copyrights are therefore not owned by me.
If you are the copyright owner of any of the photos and would like to be credited or have the material removed then please let me know.
- This website has been designed for an optimum resolution of 1024 x 768
pat-host.net PatrickMarkham.com