Topsy-Turvy (1999)

Jim Broadbent plays William Schwenk Gilbert. Also starring Allan Corduner, Timothy Spall, Alison Steadman. Directed by Mike Leigh

"Gilbert & Sullivan and So Much More"
Plot Summery: After ten consecutive smash hits their production of Princess Ida meets with less-than-stunning reviews and the relationship between WS Gilbert and Arthur Sullivan is strained to breaking. D'Oyly Carte attempts to get the two to work together again and after his wife takes Gilbert to a Japanese exhibition it opens the way to one of their greatest successes, The Mikado.
Patrick's comments: This award winning film is an absolute must for Jim Broadbent fans. Mike Leigh's meticulous research and his long-standing partnership with Broadbent combine to make this a grippingly fascinating film delivering an insight into the lives and loves of Gilbert and Sullivan and of the working actors and actresses around them. If you're also a G&S fan like myself, then you need this in your collection! Not only that, but you need it on DVD... watch it once then watch it again with the director's commentary and savor the passion of Mike Leigh at work.
Awards: Rich with awards, Topsy Turvy is the winner of two Academy Awards for Best Costume Design and Best Make-up. Mike Leigh picked up the New York Film Critics Circle and National Society of Film Critics (USA) award for Best Picture and Best Director. We are however particularly proud that the Venice Film Festival presented Jim Broadbent with the Volpi Cup for Best Actor. He is pictured receiving it below.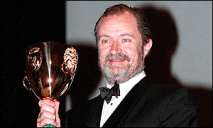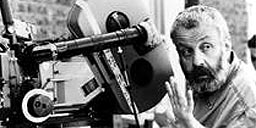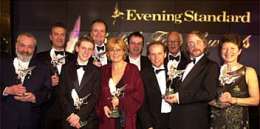 Leigh (above centre) and Broadbent spent eight years building the plot for this ten million pound British movie. The duo were also honored at The Evening Standard Film Awards (above right) with Broadbent receiving Best Actor award and Best Film for Leigh. Mike Leigh paid tribute to his "extraordinary gang of wonderful, talented, witty, committed, heart-warming folk." Jim Broadbent said Topsy-Turvy had been "the most exciting and demanding and enjoyable film I have ever worked on."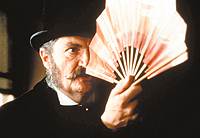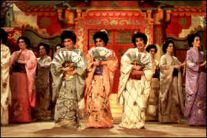 ---


See what the Internet Movie Database says about this film