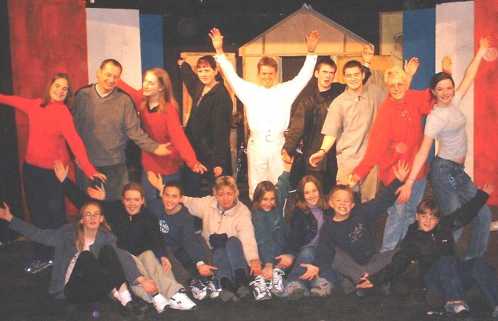 Back row (L-R): Laura ~ Phil ~ Vicki ~ Louise ~ Richard ~ Robert ~ James ~ Pam ~ Rachel
Front row (L-R): Louise ~ Caroline ~ Claire ~ Chris ~ Siobhan ~ Rachel ~ Nathan ~ Kay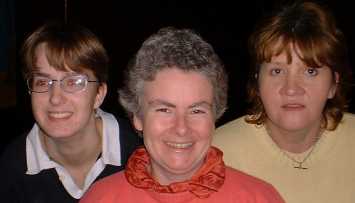 Crew: Katherine Boyce, Gail Dennis & Julie Hogg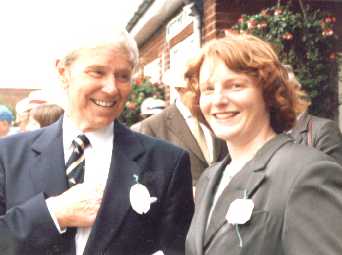 Del Carter, pictured here at Market Rasen with Lincolnshire Echo Racing Reporter Angela Markham. ©Wm Baybutt, Lincolnshire Echo (permission pending)
Derek Carter died age 70 on the Broadbent stage while enjoying a last night party after watching Songs from Now and Then Forever on Saturday 18th November 2000. Del lived all his life in Market Rasen and was well known and loved by those who came into contact with him. Del loved talking to people and he always had a smile for those that he met. He was devoted to his late wife Rosemary and he always carried a photo of her.
This was Del's second visit to the Broadbent for he had already seen the show on Wednesday. He loved it so much that he had to return. He had already written a touching note thanking the cast and production team for "two wonderful evenings that have given me such happy memories to keep with me forever." A further evening, a Songs from Now and Then Forever Request Show was staged at the Broadbent on Wednesday 29th in memory of Del.
Del didn't fear dying. He said "Love conquers death". I think he might have been quite looking forward to being re-united with Rosemary.
"Songs..." photos by Richard Scuffham.