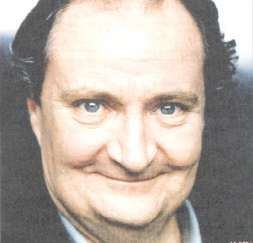 Welcome to the internet's only website dedicated to the fantastically talented, Oscar winning British actor Jim Broadbent. This website aims to answer the questions Who is he? and What's he been in? You'll also find Jim Broadbent news and photos here from time to time. Jim Broadbent is the President of the Lindsey Rural Players at the Broadbent Theatre - a detailed profile of the theatre shares the focus of this website.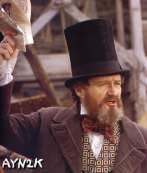 Jim has most recently been seen in the police spoof 'Hot Fuzz' and playing Lord Longford in the BBC drama 'Longford'. Current projects include filming in Italy and Shepperton for 'Inkheart' and playing Richard Nixon in 'Dirty Tricks'. Other films for release later in 2007 include playing the Mayor in 'The Other Side' and 'When Did You Last See Your Father?' alongside Colin Firth.

During a fantastically successful 2002 awards season Jim scored the hattrick with the three biggies, a Golden Globe, a BAFTA and then the Oscar! On Sunday 24th March 2002 Jim Broadbent won the Academy Award for Best Actor in a Supporting Role for his portrayal of John Bayley in IRIS.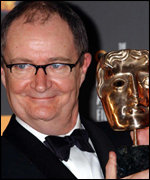 Sunday 24th February 2002. Jim Broadbent was honoured by the British Academy of Film and Television with an award for Best Supporting Actor for his fantastic role as Harold Zidler in Moulin Rouge.
"It's extraordinary. It's a great surprise," said Broadbent, who beat Hugh Bonneville, Robbie Coltrane, Colin Firth and Eddie Murphy to the best supporting actor honour. "This whole awards season has been one long surprise. I'm just going with the flow. It's all a new experience and a learning curve. I think the reason I got this was partly because of Iris. Iris, Moulin Rouge and Bridget Jones's Diary are all so different. I have had three good films over one year and that combination helped draw a bit more attention to me." Broadbent added: "I don't think this is really justified - as Don McAlpine said during the shoot 'As long as you keep pulling those wonderful faces, Jim. I'll be a happy man.'" And he gave special praise to director Baz Luhrmann. "Above all because he's a complete visionary genius without whom I'd have had a very dull two years and the whole world would have been a dull place without his Moulin Rouge," he said. more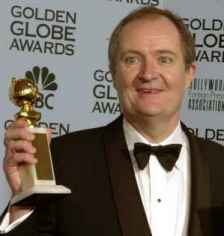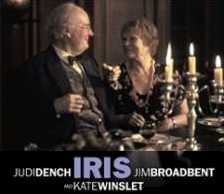 Jim also won a Golden Globe for Best Supporting Actor for his role as John Bayley opposite Judi Dench in IRIS. A visibly shocked Jim was hugged by Kate Winslet as he rose to deliver an acceptance speech that he'd been too modest to prepare! "This is amazing, I couldn't be more surprised, and I really haven't got anything worked out" he said, before going on the thank the rest of the cast, producer and director/friend Richard Eyre. See the IRIS page for more coverage. He is pictured here with his award shortly after his acceptance speech.

---
Contact Jim Broadbent
Communication for Jim Broadbent should be sent to his agent:
Sally Long - Innes Office, Independent Talent Group,
40 Whitfield Street, London WIT 2RH England.
Tel: 0207 636 6565

These pages are designed, maintained, owned and copyrighted by Patrick J Markham. Please seek permission before copying or linking to these pages (I'm not likely to refuse). Most of the photos on the Jim Broadbent section of the site have been sourced from around the internet and the copyrights are therefore not owned by me. If you are the copyright owner of any of the photos and would like to be credited or have the material removed then please let me know. This website has been designed for an optimum resolution of 1024 x 768
pat-host.net PatrickMarkham.com