Moulin Rouge (2001)

Jim Broadbent plays Harold Zidler Also starring Nicole Kidman, Ewan McGregor and Kylie Minogue. Directed by Baz Luhrmann

"Because you can can can!"

Plot Summery: This is a story about Truth, Freedom, Beauty and above all things, it is a story about Love. Christian (Ewan McGregor), a young wannabe Bohemian poet living in 1899 Paris, defies his father by joining the colourfully diverse clique inhabiting the dark, fantastical underworld of Paris' now legendary Moulin Rouge. In this seedy but glamorous haven of sex, drugs and newly-discovered electricity, the poet-innocent finds himself plunged into a passionate but ultimately tragic love affair with Satine (Nicole Kidman), the club's highest paid star and the city's most famous courtesan. Their romance is played out against the infamous club - a meeting place of high life and low, where slumming aristocrats and the fashionably rich mingled with workers, artists, Bohemians, actresses and courtesans.
Zidler enlists Satine to use her charms to persuade the rich Duke to invest in the Moulin Rouge's forthcoming show. Christian, through mistaken identity, lands the job of producing the show "Spectacular Spectacular" which reflects the real life situation that the characters find themselves in.
Patrick's comments: My fellow bohemians, dearest Diamond Dogs and children of the revolution, we have a new god and his name is Baz Luhrmann! He has, in Moulin Rouge, cast Jim Broadbent in his most entertaining role to date. He plays the larger than life all singing all dancing Harold Zidler, the owner of the Moulin Rouge. This is one of the most entertaining films I have ever seen, a roller-coaster ride of toe-tapping music, mind-blowing imagery and breath-taking emotion that'll send you tripping with the Green Fairy. Red-headed and moustached Jim had me laughing until I had tears rolling down my face. What else is there to say except go and see it... and then go and see it again. This film is a 'must buy'; it comes with two DVD discs and lots of special features. You'll need the soundtrack too (scroll down to order it on CD), it features such artists as Madonna, Elton John, Christina Aguilera Beck and Nirvana. It'll have you singing at the top of your voice and dancing round the room.
Awards: The Oscars: Moulin Rouge, battling with Lord of the Rings, has been awarded Best Costume Design (Catherine Martin) and Best Art Direction (Catherine Martin)


Awards: Both nominated for twelve awards, Lord of the Rings may have won the BAFTA race with five awards to Moulin Rouge's three but the important thing is that one of the Moulin Rouge BAFTAs was won by Broadbent! He won BEST SUPPORTING ACTOR for his role as Zidler. Moulin Rouge also won BEST MUSIC and BEST SOUND.

"It's extraordinary. It's a great surprise," said Broadbent, who beat Hugh Bonneville, Robbie Coltrane, Colin Firth and Eddie Murphy to the best supporting actor honour. "It's all a new experience and a learning curve. I think the reason I got this was partly because of Iris. Iris, Moulin Rouge and Bridget Jones's Diary are all so different. I have had three good films over one year and that combination helped draw a bit more attention to me."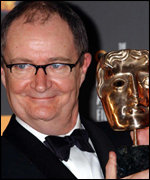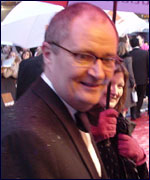 An unusually relaxed-looking Broadbent (who I suspect might even be getting used to award ceremonies!) added: "I don't think this is really justified - as Don McAlpine said during the shoot 'As long as you keep pulling those wonderful faces, Jim, I'll be a happy man.'" He went on to joke that "I think he underestimates it, there's an awful lot of shouting and jumping up and down that goes into it!" He gave special praise to director Baz Luhrmann. "Above all because he's a complete visionary genius without whom I'd have had a very dull two years and the whole world would have been a dull place without his Moulin Rouge," he said.

The BAFTAs were held on Sunday 24th February 2002 at the Odeon Cinema in London's Leicester Square. The event was broadcast on the same evening beginning at 8pm on BBC1.
Golden Globes 2002 was held on January 21st at the Hilton, Beverley Hills, LA. Moulin Rouge swept the board winning BEST MUSICAL OR COMEDY; BEST ACTRESS IN A MUSICAL OR COMEDY (Nicole Kidman) and BEST ORIGINAL SCORE (Craig Armstrong). Photos from the event below:
Quotes:
"...we're introduced to the Moulin Rouge via Topsy-Turvy's Jim Broadbent and Fatboy Slim (a pairing only Luhrmann could conceive) with the rousing "Can-Can"..." Jeffrey Huston's Review
"Like a Virgin, sung choral-style by a load of dancing waiters, with Jim Broadbent quasi-rapping over the top, is about the funniest thing you ever saw." London Evening Standard
Luhrmann's notes to everyone "I dare you to make me tell you you've gone too far"
"...And you haven't lived until you've heard British thespian Jim Broadbent croon "Like a Virgin." (That alone is worth the price of admission...)" James Berardinelli's Review

Jim Says: "Zidler, the Moulin Rouge's impresario, loves his art, though he's more interested in the effect than the message. The spectacle is all for him, how big and loud and how beautiful it is. In order to get the show up, he'd sell his own grandmother. Somebody who's not afraid to shout and go over the top, be hugely theatrical. That's probably the quality I was cast for. Zidler... he's a life force."
When asked by an interviewer "Is your version of Like a Virgin similar to Madonna's?" he replied "Not quite. I sing like a virgin and dance like a farmer"
Media on MP3: Listen to Jim destroy 'Like a Virgin' in the most amusing way possible! - click here
Awards: Moulin Rouge scooped the 2001 Hollywood Film Festival Movie of the Year Awards recently winning Movie of the Year, Actress of the Year (Nicole Kidman) and Actor of the Year (Ewan McGregor).
The National Board of Review has awarded Moulin Rouge with Best Movie and Jim Broadbent with Best Supporting Actor. More info from the BBC.
Downloads

Have the Green Fairy fly around your desktop
EXE (PC only)
| | | |
| --- | --- | --- |
| | Moulin Rouge opened the Cannes Film Festival on 9th May 2001. It was attended by all the MR stars including Baz, Ewan, Nicole and Kylie Minogue. Even Jim was there but you know what he's like, he was dodging the press in his usual subtle style - he hadn't yet seen the film and didn't want to have to comment on it! The Moulin Rouge theme continued as the post-premiere party kicked off with a troupe of can-can dancers. | |
---


See what the Internet Movie Database says about this film