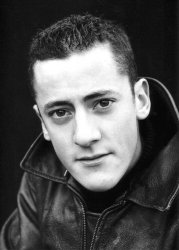 Member Profile:
Richard Magrin
Since his two productions with LRP Ric has spent two summer seasons with the Jill Freud Theatre Company in Aldeburgh and Southwold, where he made his professional debut in the two-man play 'A Man of Letters' by Tim Firth, and also appeared in the première performance of Simon Williams' current hit play 'Nobody's Perfect'. He then moved to London where he worked for three years at the London Palladium, and a stint at the Westminster Playhouse. For the last couple of years, he has worked as a special effects technician, mainly on Dr. Who (see Ric's entry in IMDB imdb.com ), but also on many other TV and film productions such as Midsomer Murders, Waking the Dead, Miss Marple, Extras, The Descent (film), and others.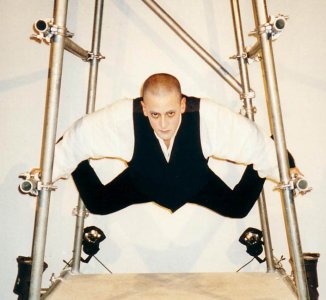 Richard as Gregor in Metamorphosis
thanks to Joe Magrin for supplying the photos
Portrait by Joe Magrin. 'Gregor' by Keith Rylands-Bolton.