The Blackadder: The Queen of Spain's Beard (1983)

Jim Broadbent plays Don Speckingleesh, an Interpreter Also starring Rowan Atkinson, Tony Robinson, Tim McInnerny, Brian Blessed, Miriam Margolyes

"I have a cunning plan"
Plot Summery: Set in England at the end of the War of the Roses, we learn the history of Tudor fiction. The story focuses on Richard IV's (Brian Blessed) younger son Prince Edmund, a sniveling coward who calls himself the 'Black Adder'. Assisted by his grungy servant Baldrick and the moronic Lord Percy, Edmund plots his rise to greatness.
Patrick's comments: Way back in 1983 Rowan Atkinson and Richard Curtis set out to make history (or at least to mess it up beyond all recognition!) with the start of one of the BBC's best comedies. It has of course occasionally been repeated but if you were unfortunate enough to forget to tape it then you're gonna have to spend your money on the set of videos. Not having it in your collection is of course not an option.
With silly wig and hilarious accent, Jim Broadbent plays the very memorable and hilarious translator to Infanta Maria Escalosa of Spain. Edmond finds himself engaged to the rather overweight Infanta and attempts to worm his way out of the predicament.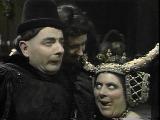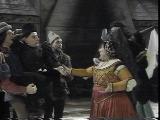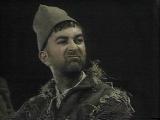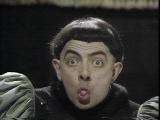 ---
buy this film from

buy this film from

Buying from these links earns commission to fund this site. Click on Add to Basket directly from this link to earn maximum commission.
---


See what the Internet Movie Database says about this film