Robots (2005)

Jim Broadbent plays Madame Gasket Also featuring Ewan McGregor, Mel Brooks, Robin Williams, Halle Berry, Paula Abdul

"Repair for adventure!"
Plot Summery: Even in a world populated entirely by mechanical beings Rodney Copperbottom (McGregor) is considered a genius inventor. Rodney dreams of two things, making the world a better place and meeting his idol, the master inventor Bigweld (Brooks). On his journey he encounters Cappy (Halle Berry), a beautiful executive `bot with whom Rodney is instantly smitten, the nefarious corporate tyrant Ratchet (Kinnear) who locks horns with Rodney, and a group of misfit `bots known as the Rusties, led by Fender (Williams) and Piper Pinwheeler (Bynes).
Patrick's comments: This such an excellent movie! The kids will love it and there is even more there for the adults. So many digs at the Microsoft-led modern world.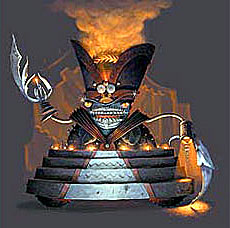 Madame Gasket







---



See what the Internet Movie Database says about this film