Princess Caraboo (1994)

Jim Broadbent plays Mr Worrall Also starring Phoebe Cates, Kevin Kline, Stephen Rea, John Lithgow, Roger Lloyd-Pack

"She was everything they dreamed of... And nothing they expected"
Plot Summery: Bristol, England, 1817. A beautiful young stranger who speaks an unknown language is tried for the crime of begging. When a man claims that he can translate her dialect, it is understood that the girl is a princess from a far away land. She is then welcomed by a family of haughty aristocrats (played by Jim Broadbent and Wendy Hughes) in order to heighten their prestige. However, the local reporter is not at all convinced she is what she claims to be and investigates. Is Caraboo really a princess?
Patrick's comments: Jim Broadbent is a joy and a delight throughout this film. He's not alone there though for the entire film is a joy and a delight. Every character is uniquely special. John Lithgow as the professor is hilarious in his attempts to find a language that the Princess might understand. Kevin Kline as Frixos the Greek butler is, as ever, also a hoot as he puts himself above his employers and tries to emulate an English accent. Add to that the sparkling beauty of Phoebe Cates and you have a film that is unmissable. It's in my collection and I'd recommend it for anyone whether you're a Broadbent fan or otherwise! The story is beautifully told by the newspaper reporter, Gutch, played by Stephen Rea.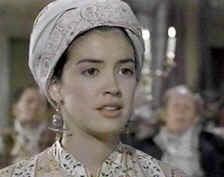 ---