Bridget Jones's Diary (2001)

Jim Broadbent plays Colin Jones Also starring Renée Zellweger, Hugh Grant, Colin Firth, Honor Blackman

"Uninhibited. Uncensored. Unmarried"
Plot Summery: Bridget Jones (Renée Zellweger) is a woman struggling against her age, her weight, her job, her lack of a man, and her many imperfections. Her New Year's Resolution is to take control of her life, starting by keeping a diary in which she will always tell the complete truth. The fireworks begin when her charming though disreputable boss (Hugh Grant) takes an interest in the quirky Miss Jones and the ups and downs of their ill-fated relationship prove hilarious and touching at once. Thrown into the mix are Bridget's band of slightly eccentric friends and a rather disagreeable acquaintance (Colin Firth) who Bridget cannot seem to stop running into or help finding quietly attractive.
Patrick's comments: Jim plays Bridget's father, Colin. Not a huge opportunity for laughs (apart from the tarts and vicars party!) but he is involved in a moving sub-plot with Gemma Jones who plays Bridget's mother. Some would describe this as a 'chic flick' but I thoroughly enjoyed it too! Great soundtrack.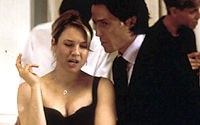 ---


See what the Internet Movie Database says about this film