Bridget Jones: The Edge of Reason (2004)

Jim Broadbent plays Colin Jones Also featuring Renee Zellweger, Colin Firth, Hugh Grant, Gemma Jones

" "
Plot Summery: Edge of Reason picks up right where the last film left us. Just four weeks into the perfect relationship between Bridget and human rights barrister Mark Darcy (Firth), or is it?!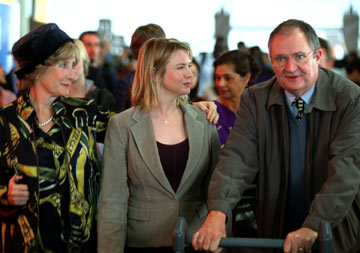 Patrick's comments: Wow! What a soundtrack! Buy the DVD and buy the soundtrack too! Maybe I'm just a big girl at heart but I have to agree that Bridget Jones: The Edge of Reason is one of the best films of 2004. Jim (or Lord Lilac as we must call him from now on) is excellent once again in his understated role as Bridget's father Colin.
---


See what the Internet Movie Database says about this film