Brazil (1985)

Jim Broadbent plays Dr. Lewis Jaffe Also starring Jonathan Pryce, Robert De Niro, Bob Hoskins, Michael Palin

"It's only a state of mind but we're all in it together"
Plot Summery: This chilling black comedy is a surrealistic nightmare vision of a "perfect" future where technology reigns supreme. Everyone is monitored by a secret government agency that forbids love to interfere with efficiency. When a daydreaming bureaucrat becomes unwittingly involved with an underground superhero and a beautiful mystery woman, he becomes the tragic victim of his own romantic illusions. Terry Gilliam writes and directs.
Patrick's comments: Jim seems to have had a run at playing doctors! This was the first and in this film he's a plastic surgeon with the goal of keeping his patients looking forever young. "Faces are a doddle compared to tits and ass. No hairline" he says. Broadbent appears in just a couple of scenes but the film is well worth watching for Gilliam's unmistakable imagery and imagination.
Multimedia: Click on the following pictures to load and view the associated clips from the film. Kate Bush sings the theme tune... Listen to her here on MP3.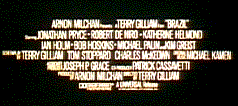 ---


See what the Internet Movie Database says about this film