Around the World in 80 Days (2004)

Jim Broadbent plays Lord Kelvin Also starring Steve Coogan, Jackie Chan

"Let your imagination soar"
Plot Summery: This version of the classic novel by Jules Verne is set in 1872 and focuses on Passepartout (Chan), a Chinese thief who steals a valuable jade Buddha and then seeks refuge in the travelling companionship of an eccentric London inventor and adventurer, Phileas Fogg (Coogan), who has taken on a bet with members of his gentlemens' club that he can traverse the world in a mere 80 days using a variety of means of transportation.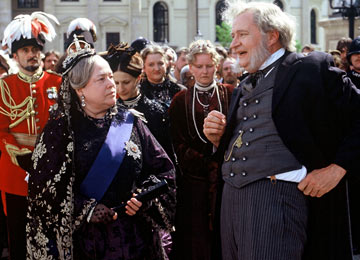 Kathy Bates and Jim Broadbent
Patrick's comments: The most important thing to remember here is that it's a Jackie Chan film. It's a vehicle for his well known martial arts style so those of you wanting the focus on Phileas Fogg may be disappointed. That said, it's a great film with some great comic touches and well worth going to see. Steve Coogan produces an excellent Fogg who accepts equally eccentric Lord Kelvin's (Broadbent) bet to circumnavigate the world in just 80 days.
---


See what the Internet Movie Database says about this film