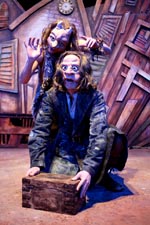 Strangeface filled the Broadbent Theatre again on Thursday night with their latest offering "The Last Resort".  This time, much darker than their previous 'gag-a-minute' shows, the masked folk tale leads us into the world of grotesques, innocents, tricksters and fools.
The addition of live original and improvised music by Russell's brother Mark Dean brings a new and exciting edge to the production which also offers a gripping story, creative costumes, outstanding character masks and an intriguing set with its usual trap doors and surprises.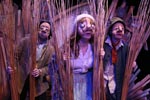 We took our four kids along ranging in ages from 3 to 11.  They were all transfixed on the action and didn't lose concentration throughout.  They also enjoyed being able to meet the masks, puppets and actors following an invitation back stage after the show.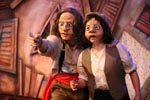 The performers are some of the loveliest people you'll meet on tour: Mark Dean (Composer and Musician), Russell Dean (Nathan, Soldier, Maker & Writer), Jonny Dixon (Seth, Devil, Old Man, Doctor), Roxanne Palmer (Susan, Boy, Landlady, Priest) and Kai Simmons (Dad, Mayor).
We very much hope that Strangeface will return to the Broadbent later in the year with their next production which will be based on "A Christmas Carol".
[Patrick Markham]