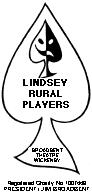 The Lindsey Rural Players Annual General Meeting took place this afternoon.  The exiting Chairman, Charlotte Broughton, said "The fastest AGM ever!".  There were no points to debate and the necessary business flowed smoothly.  Jim Broadbent remains our President and the elected committee are:
Ian Rushby (new Chairman)
Donna Moody (Secretary)
Helen Edwards (Treasuruer)
Ordinary Members: David Bett, Patrick Markham, Charlotte Broughton, David Broughton, Vicky Brown, Hayley Harrison, Margery Smith, Jane Rushby, Clare Richardson, Stephanie Bett, Janis Bowley, Tom Murray and Mike Boltz.
The AGM was followed by a buffet and social giving members an opportunity for a catch up.  It was particularly nice to see some of our veteran members including Trustees Phyllis Walshaw, Don Sutherland and Marion Plenderleith.