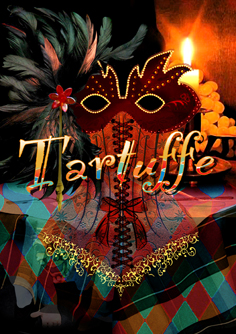 Northumberland Theatre Company are touring a new performance version of Molière's Tartuffe by Stewart Howson.
Tartuffe is a hilarious and outrageous classic.
Tartuffe, a roguish imposter, worms his way into the orderly household of prosperous yet naive merchant Orgon. He sets out to marry the daughter, seduce the wife, imprison Orgon and get his hands on the family fortune.
Cue disguises, thwarted lovers, eavesdropping and the famous 'under the table scene', one of the funniest comic set pieces ever written for the stage. Tartuffe is performed in a style with one foot in Commedia dell'Arte and the other in 'Carry On' yet with a relevance that will delight modern-day audiences.
Tartuffe is being performed at the Broadbent Theatre, Wickenby on Sunday 25th September 2011 at 7:30pm.  There are a few tickets left.  Tickets are available online at www.broadbent.org or by calling Patrick or Charlotte at the Box Office on 01673 885500.
"Wow!  NTCs Tartuffe is a truly outstanding production.  A super script, great direction and a drop dead brilliant cast made this one of the most enjoyable shows I've seen." Alistair – Creative Arts East, Norfolk.