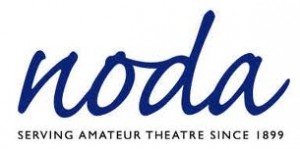 We have just heard that Lindsey Rural Players Youth Theatre's production of "Stop, Listen and Learn!" has won a NODA award.  The annoucement was made at the NODA Annual Awards Ceremony at Loughborough this afternoon.  Abigail Wright, one of the Youth Theatre leaders, proudly accepted the award for BEST YOUTH THEATRE DRAMA for the show that was staged in September 2010.
The Youth Theatre had previously done very well at The Skegness Youth Theatre Festival in October 2010 with their production of Nasrudin's Coat which received Best Actor (Tom Murray), Most Memorable Moment in Theatre (Abigail Wright / Jodie Smart) and Overall Best Production.
The Lindsey Rural Players Youth Theatre meet at 7pm on  Tuesday evenings at the Broadbent Theatre in Wickenby.