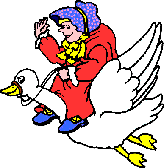 Lindsey Rural Players Chairman, Jan Allen, has announced that she will be producing her third consecutive panto on the Broadbent stage.
The January/February 2011 pantomime is to be MOTHER GOOSE directed by Jan's daughter Abigail Wright.
Further information can be found on the What's On page where tickets have just gone on sale.
Keep an eye on the Broadbent website as we will soon be announcing dates for the Reading and Casting sessions.