Eccentric English writer, actor, director and comedian Ken Campbell died suddenly yesterday, August 31st 2008.  He was found at his home in Epping Forest.  He was 66. 
The cause of death is currently unknown but it is reported that Ken was not ill.  He had in fact been on stage just days earlier at the Edinburgh Festival with his show Showstopper! – The Improvised Musical.
Ken was a friend of the Broadbent Theatre.  He visited us first with "The History of Comedy Part I: Ventriloquism" in October 2002.  He followed  this in April 2004 with "The Meaning of Life: I'm Not Mad.  I've Just Read Different Books".  His third visit was perhaps his most remarkable.  Ken arrived one Saturday in November 2005 at 2pm.  I presented him with 11 amateur actors.  He spent the afternoon in workshop mode and taught the principles of Improvisation.  That night the packed house was treated to a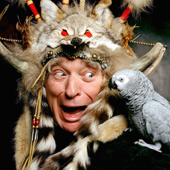 hilarious and quite outstandingly entertaining impro performance.  Ken's most recent visit to us was in May 2007 with "Hyphenator" when he displayed a gallery of art by his talented parrot, Dolly.
We didn't book Ken in the usual sense.  It was he who found us.  One day in 2002 I got a call from Ken's agent, Colin Watkeys.  Colin explained that Ken had been listening to Radio 4 and came across a programme about the Broadbent Theatre.  Ken rang Colin and said "The Broadbent Theatre.  Why have you never booked me in there?"  "The where?" replied Colin.  "You know, Jim's parents place." "Who?" said Colin.  "Jim Broadbent.  The Broadbent Theatre.  I want to go there."  Colin did some research, found the website and called me.
Now, if I'm honest, I have to say that I wasn't really sure who Ken Campbell was.  I Googled his name.  There, to my astonishment, near the top of the page was a reference from Jim Broadbent's biography on my own website, broadbent.org!  It read "A significant breakthrough came in 1976 when he (Jim Broadbent) appeared in Ken Campbell's 'Illuminatus' a 12 hour sci-fi extravaganza in which he played a dozen characters.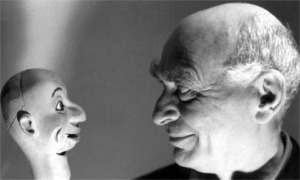 Jim Broadbent actually came to see that first performance "The History of Comedy…"  It was so interesting to hear them catching up in the pub afterwards.  Jim once said to me that chatting to Ken in a pub is very much like seeing him on stage except that you can occasionally get a word in sideways!".  On his second visit Ken stayed with us at our house.  Having a drink with him that night was indeed like being treated to a 4 hour extension to his show!
Ken Campbell (1941-2008) will be missed.  May he have a safe journey to wherever the heck he thinks his going!