| | |
| --- | --- |
| | Comic Relief: Dr Who and the Curse of Fatal Death (1999) |
| Jim Broadbent plays the 11th (rather shy) Doctor Also starring Rowan Atkinson, Julia Sawalha, Hugh Grant, Richard E. Grant, Joanna Lumley, Jonathan Pryce | |
Plot Summery: Before the Doctor can settle down to married life, he must face one last confrontation with his deadly enemy of certain death - the Master (Pryce).
Patrick's comments: Curse of Fatal Death is an excellent Dr Who parody which was produced for Comic Relief in March 1999. With it's Daleks and a rapid riot of regeneration it will definitely appeal to fans of the original series. Broadbent made a surprise brief appearance as the 11th (Rather Shy) Doctor. It amounted to just 42 seconds between Richard E Grant and Hugh Grant and a couple of explosions!
Broadbent is no stranger to parodying Doctor Who. Back in 1987 he played the Doctor in a sketch on 'Victoria Wood as seen on TV'. The clip in question is featured on the video. The video also includes an excellent behind the scenes film of the making of the Comic Relief episode.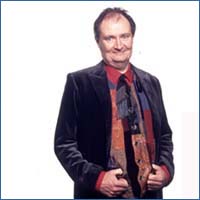 ---


See what the Internet Movie Database says about this film