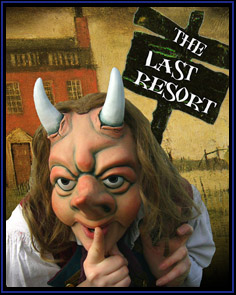 We are delighted to welcome our friends from Strangeface back to the Broadbent with their latest touring production, "The Last Resort" which is described as "A Fiendish Folktale".
The show which is also described as a cross between Spitting Image and The Brothers Grimm has 'a devilishly fine plot'.  When a soldier-thief does a deal with the devil and the devil takes a holiday from hell they descend upon a remote village on the edge of ruin.  However, these rare visitors make a tantalising offer of redemption… at a price.  Just how far will the upstanding mayor and his respectable cronies go to seize this glittering prize?
The last time that those talented people, Russell and Bethan, visited us from the land of Strangeface, it was with the hugely successful "Hell and High Water" and The Outlaw Fulke Fitz Waryn".  These maestros of masked comedy present a darkly comic folktale with a startling mix of half-mask, puppets and live music.
Tickets are, as from today, now available online by CLICKING HERE or from Jan at the Box Office on 01673 885500
Strangeface usually sell out so do make sure you reserve in advance.  The literature says that the show is suitable for adults and young people 9+ (But we shall be taking our small ones too.)
More information at the Broadbent Theatre website broadbent.org
and at the Strangeface website strangeface.co.uk