The first Cinderella rehearsal took place this afternoon.  Most of the cast were there and it was a real pleasure to hear the script come to life with all the real voices rather than the ones in my head.
On arrival at theatre it became apparent that there had been a power outage in the village.  The fire alarm needed resetting and the telephone PBX had shut down.  Sorry if you'd been trying to ring.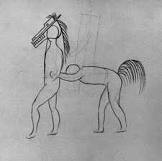 While most of the cast seem very happy with the parts they have been given, it emerged that there was one problem.  Neither end of Hagan, the pantomime horse, was prepared to be the back end!  Not sure how we'll get round this one and some compromise might be required.  We'll see how we get on.
A couple of panto tickets were purchased online while we were busy in the theatre.  They weren't the first either.  There's no turning back now!
Next rehearsal Wednesday at 7.30pm