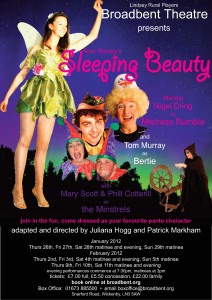 Sleeping Beauty has become a much loved traditional pantomime. The audience are invited to join in the celebrations of the birth of the Royal Princess Catherine and witness the evil Fairy Gravia cast her spell stating that the Princess would prick her finger on a spinning wheel and die! Can the good fairy Tania and her brother Bertie cast a counter spell to stop this from happening? Will Bertie earn his fairy wings? Will Prince William find his Princess? Will the Royal Nursemaid Mistess Bumble get her man? What will the Woodcutter spend all that money on?  Do you believe in magic and fairy tales? The only way to find out is to book a ticket and come along to the show.
Directors, Juliana and Patrick haven't worked together on a production like this since their much acclaimed production of "Cinderella – It's A Kinda of Magic" ten years ago, and have enjoyed teaming up again.
We have an excellent cast including Nigel Dring as "Mistress Bumble", Tom Murray and Rachel Hogg as "Bertie and Tania " the good fairies, Ian Rushby as "Master of Ceremonies", Mary Scott and Phil Cotterill as the "Minstrels" and  Sharon Mace as the evil fairy "Gravia".
We feel exceptionally priviledged  and honoured that our President Jim Broadbent has agreed to take time out from his busy schedule promoting "The Iron Lady" to be our narrator.
Please come in fancy dress –" Strictly Panto" of course to have the opportunity to join the cast on stage in this spectacular pantomime. Tickets are selling fast so please book now to avoid disappointment.
Tickets cost £7.00 (full), £5.50 (concession) and £22.00 (family 2 adults / 2 children).  Don't forget the special opening night Two for the Price of One deal.
Tickets are available as usual by calling 01673 885500 or online at www.broadbent.org  Sleeping Beauty opens on Thursday 26th January and runs until Saturday 11th February.
Come and join the fun!