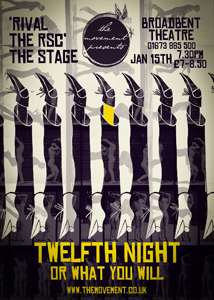 In the cold winter of 1602, the century seemed to be refusing to start. The old Queen was dying but still not dead, and despite dozens of dalliances with the men of her court she had produced no heir. Religious civil war and foreign invasion loomed. It was a dark winter. In Stratford-upon-Avon, William Shakespeare's son, Hamnet, had died, leaving a twin sister bereft.
In January, the Lord Chamberlain's men performed a new piece, Twelfth Night. It is a play shadowed from the outset by decay, overseen by decadent, self-indulgent monarchs in a land where the midwinter Festival of Misrule does not end. A sister watches her twin brother drown.
It is the most enduringly funny and popular of Shakespeare's comedies. 
The Movement's latest production restores Twelfth Night to its wintry beginnings and to its original power: the story of dawn breaking, of the days lengthening and of a family's love overcoming death.
The Movement will be at the Broadbent Theatre with Twelfth Night on Sunday 15th January at 7:30pm.  Tickets are £8.50 (full) and £7.00 (conc).  Book online at www.broadbent.org or by calling the Box Office on 01673 885500