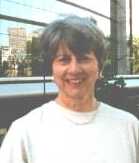 With sadness we report the death of past member Joy Walker who recently lost her battle against Cancer.
Joy joined LRP in 1977 having spent several years acting in an amateur company run by Dr Shegog in Market Rasen.  She remained involved until 1993 and then continued to take a great interest in LRP and supported as many productions as possible.
Joy, who passed away on October 27th spent a fifteen year span working with LRP.  She took major roles in many prestigious productions and her fine acting talent enhanced many of LRP's dramas and comedies as well as leading roles in several pantomines.